eufy
Lumi Stick-On Night Light
2nd Generation Warm White LED, Motion Sensor, Bedroom, Bathroom, Kitchen, Hallway, Stairs, Energy Efficient, Compact, 3-Pack
TWO BRIGHTNESS MODES: Set the ideal amount of glare-free lighting to guide you in the dark.
AUTOMATIC ILLUMINATION: When light sensor perceives darkness, the motion sensor activates lighting when movement is detected.
EXPANSIVE FIELD-OF-VIEW: The sensor detects motion within a 120° angle, ensure the area you're walking by is illuminated before you get there.
EASY INSTALLATION: Just stick the adhesive back to any surface to add instant and automated lighting.
$16.99
Please allow 3-5 business days for shipping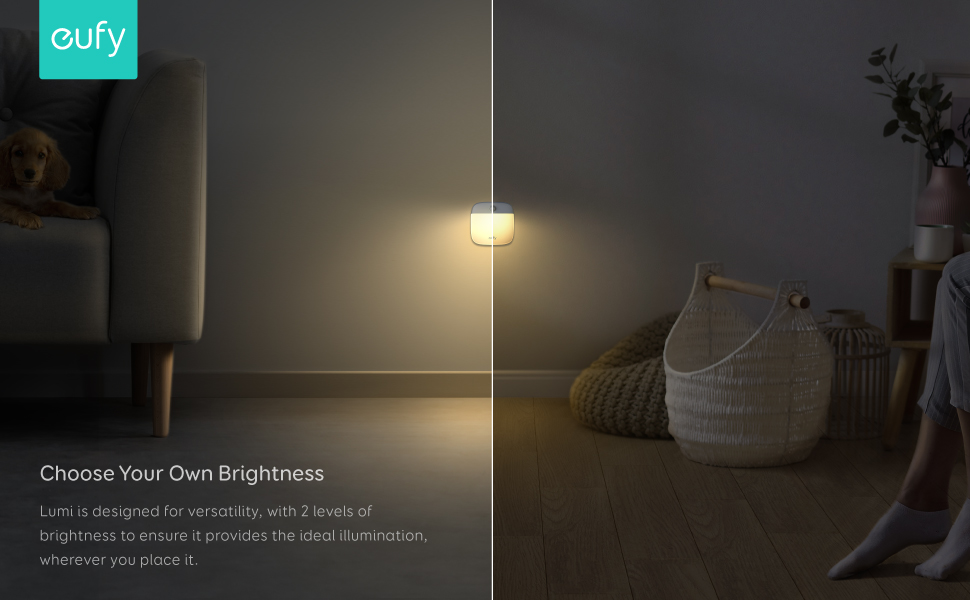 Softer Glow, Greater Reach
A soothing and glare-free glow shines gently from this night light, making it the ideal illumination for your nursery, closet or cabinet.
Bye Bye Stubbed Toes
When the lights go out, motion sensors ensure Lumi provides illumination when you need it most. A wide 120° field of view detects movement up to 10 ft away, giving you light before you need it.
lumi is Camera Shy
Avoid installing in places that directly face an infrared beam.
lumi Doesn't like Change
Avoid removing after sticking to a surface; the adhesive will be less effective if used again.
lumi Likes Personal Space
Keep a minimum distance of 5 ft when installing multiple units.

FREE SHIPPING on Orders Over $20.00
30-Day Money Back Guarantee
