eufy
Lumos Smart Bulb - Tunable White
Set the Perfect Ambience
Adjustable Ambience
Functional Lighting
Voice-Controlled
Unlimited Range
Use the EufyHome app to control Lumos' lighting from wherever you are via any Internet connection.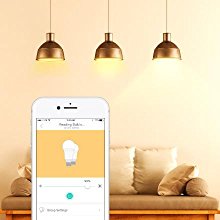 Illuminate Your Moments
Adjust Lumos' light from a warm glow to a cool white to create the perfect ambience for any activity you do.
Scheduled Illumination
Program up to 10 lighting schedules to use light to your benefit, such as automatically turning on to wake you up or as a kitchen timer.
Energy Saving
Lumos illuminates with the brightness of a 60W-equivalent incandescent, but only uses 9W of power to do so, saving you over 80% on your lighting costs.
SPECS
Dimensions
65 x 65 x 140 mm / 2.6 x 2.6 x 5.5 in
FAQ
Why are there four pre-programmed light settings?

The pre-programmed light modes are the four most commonly used light settings; they make it quick and easy to change the bulb's settings with just a tap.
If the bulb loses Wi-Fi connection, are the operating time and energy consumption readings accurate?

No. The operating time and energy consumption readings are uploaded to a server via Wi-Fi connection. If the bulb cannot connect to the server for a long time, then readings after losing Wi-Fi connection may not be updated.
What information can only be edited by the owner?

The owner can edit the the device name, room name, and the price per kilowatt-hour (kWh) hour.
How can other users quickly control bulbs using the share function?

The account that initially set up the bulb and connected it to the Wi-Fi network is the owner and main account. Other users can also control the lights but need to download the EufyHome app and get access permission from the owner. After the owner adds other accounts list of users, the other accounts can use the bulb without going through the setup process.
DOWNLOADS
Manual

E1012_Manual

2018-08-14

FREE SHIPPING on Orders Over $20.00
30-Day Money Back Guarantee
