eufy
Lumos Smart Bulb - White
Set the Perfect Brightness
Voice-Controlled Illumination
Functional Lighting
Access From Anywhere
Unlimited Range
Use the EufyHome app to control Lumos' lighting from wherever you are via any Internet connection.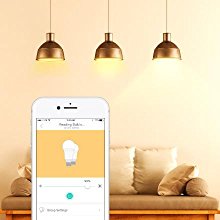 Perfect Luminescence
Whether you need bright illumination to read or just a dim glow for bedtime, Lumos' brightness is easily tuned to match any setting.
Scheduled Illumination
Scheduled Illumination Program up to 10 lighting schedules to use light to your benefit, such as automatically turning on to wake you up or as a kitchen timer.
Energy Saving
Lumos illuminates with the brightness of a 60W-equivalent incandescent, but only uses 9W of power to do so.
SPECS
Dimensions
65 x 65 x 140 mm / 2.6 x 2.6 x 5.5 in
FAQ
What is the idle power consumption on our smart plugs?

It is between 1.4W (relay is turned off) to 2.4W (relay is turned on).
Can it connect with xfinity wifi ?

NO, xifinity is the pubulic wifi.
If the bulb loses Wi-Fi connection, are the operating time and energy consumption readings accurate?

No. The operating time and energy consumption readings are uploaded to a server via Wi-Fi connection. If the bulb cannot connect to the server for a long time, then readings after losing Wi-Fi connection may not be updated.
What information can only be edited by the owner?

The owner can edit the the device name, room name, and the price per kilowatt-hour (kWh) hour.
DOWNLOADS
Manual

T1011_Manual

2019-05-06

FREE SHIPPING on Orders Over $20.00
30-Day Money Back Guarantee
