eufy
Spaceview S Baby Monitor
Peace of Mind for New Moms, 5 inch LCD Display, 110° Wide-Angle Lens Included, 720p HD, Lullaby Mode, Night Vision, Day-Long Battery, Crib Mount
---
See Up To 87% More: The large 5" 720p display shows a sharp picture with 10 times more detail than ordinary 240p-display baby monitors.
Wide-Angle Lens Included: No need to purchase another lens. When your baby starts to crawl or run around, just attach the extra lens to expand the view to 110°.
Sleep Soundly: Choose from 5 popular lullabies to help put your little one to bed.
Whole-Room Coverage: Pan the lens 330° to see corner-to-corner and tilt 110° to see floor to ceiling.
Real-time Broadcast plus Instant Alerts:: Stay within the 460ft coverage area to get live video feeds, and receive instant alerts the moment when your baby starts crying.
---
$199.99

Double Your Field of View
Simply attach the included lens to expand the view to 110° for a full view of the nursery.
460 Ft of Coverage
Stay connected and see your baby in real time from anywhere in your home.
Nighttime Video
When it's time for bedtime, night vision technology continues to monitor so you can get your zzzzz's.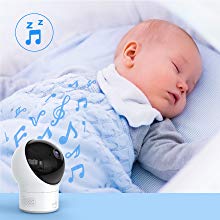 Plays Lullabies
Set a soothing playlist of melodies to comfort your baby.
Know When You're Needed
You're only notified when SpaceView detects the ambient noise to be louder than what you set and when your attention is needed.
Built-In Thermostat
See what the temperature of the nursery is in real-time throughout the day.
Real-Time Communication
The built-in microphone and speaker give you direct communication to your baby, even if you're elsewhere in the home.
All-Day Usage
The high-capacity 2900mAh rechargeable battery provides a full-day of monitoring.

FREE SHIPPING on Orders Over $20.00
30-Day Money Back Guarantee
