eufy
HomeVac S11 Infinity
Cordless Stick-Vacuum Cleaner, Lightweight, Cordless, 120AW Suction Power, Additional Detachable Battery, Deep Clean Carpet to Hard Floor
Effortless Handling: The cordless, lightweight design allows you to maneuver into corners and around furniture with ease.
Swap-and-Go Battery: An additional battery allows for 2x the cleaning. Simply swap-in the spare and complete the whole clean in one session.
Versatile Modes: Utilize all of the 120AW suction power for up to 8 minutes of deep cleaning in Max-Mode. Clean up crumbs and dust with ease for up to 25 minutes in mid-mode. Enable low-mode when your whole home requires attention and make the most of an ultra-long 40-minute run-time. (Run-times are based on single battery pack usage)
Tools For Every Task: Whether it be an impossibly tight space or a delicate surface, there is an attachment suitable for any cleaning scenario.
What's in the box: HomeVac S11 Infinity, Wall Mounting Accessories, Floor Brush, AC Charger, Metal Hose, Long Crevice Tool, 2-in-1 Crevice Tool, Mini-Motorized Brush, Extension Hose, Soft Roller Brush. Additional Battery Pack. 2-year warranty for the vacuum. 12-month warranty for each battery pack.
Dual-Vortex Technology
Increased efficiency and dust-tight containment for reduced air pollution.
Dirt-Destroying Suction
Ultra-strong power to take on any task. Activate Max-Mode when a deep clean is needed and utilize all 120AW for up to 8 minutes.
Optimize and Protect
The advanced 5-tier filtration system safeguards and maximizes motor performance.
Endurance Cleaning
The long-lasting detachable batteries included allow for up to 80 minutes of cleaning time.
Suitable for Delicate Surfaces
Use the 2-in-1 crevice tool when a softer touch is required.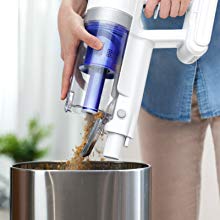 Tap and Dispense
Detach and empty the dustbin in seconds.
Clean Below the Fabric
Use the mini-motorized brush to rid your bed or sofa of dust particals and mites.
Simple Maintenance, Efficient Cleaning
The washable high-efficiency filter ensures minimal maintenance and improved performance.
Model:T2501
Swift and Nimble
Move from room to room without snags or trips as you breeze through the dust in every inch of your home.
Seek-Out Hidden Dust
LED lights in the brush-head illuminate dark areas so you don't miss a speck.
Back-Up Battery
When you run out of power simply detach the battery and add the spare. Power-up the additional battery with the AC charger and always be ready for cleaning emergencies.
Suitable for Delicate Surfaces
Use the 2-in-1 crevice tool when a softer touch is required.
Clean Below the Fabric
Use the mini-motorized brush to penetrate below the surface and rid your bed and sofa of dust particles and mites.
Expand Your Reach
Use the extension hose when flexible movement is needed.
Every Nook and Cranny Covered
Use the long crevice tool to suck up crumbs and dirt in any corner or hard-to-reach areas.
SPECS
Product Type
Cordless Stick Vacuum Cleaner
Product Sub-category
Stick and Handheld 2-in-1
Max Suction Power
120AW/20kpa 33AW/12kpa 15AW/7kpa
Cleaner Head
Motorized Roller Brush with LED headlight
Accessories
2-in-1 crevice tool Long crevice tool mini motorized Brush extension hose soft brushroller Wall Mount Base

Your order qualifies for FREE Shipping!
