eufy
RoboVac G10 Hybrid
Smart Dynamic Navigation, 2-in-1 sweep and mop, Wi-Fi, Super-Slim, 2000Pa Strong Suction, Quiet, Self-Charging Robotic Vacuum, For Hard Floors Only
---
Smart Dynamic Navigation: Advanced gyro-navigation technology allows for up to 2x the efficiency while cleaning. Complete a routine clean in half the time, when compared to a standard robotic vacuum.
Hybrid 2-in-1 Vacuum & Mop: Combine sweeping and mopping for a deeper clean that will leave your floors sparkling! Note: we have engineered this RoboVac to specialize in cleaning hard floors only.
Convenient Control: Give instructions by voice or using your phone via the EufyHome app, Amazon Alexa or the Google Assistant. Set detailed commands and receive voice reminders on how your RoboVac is performing.
Slim but Strong: With 2000Pa of suction power, RoboVac G10 Hybrid delivers our most powerful clean to date. The Super-Slim 2.85" body effortlessly glides under furniture and into hard to reach areas.
What You Get: RoboVac G10 Hybrid, charging base, AC power adapter, cleaning tool, water tank, washable mopping cloths (x2), waterproof pad, extra filter elements (x4), extra set of unibody filter, 4 side brushes, 5 cable ties, quick installation guide and manual, and our worry-free 12-month warranty.
---
We'll notify you when this product is in stock. We don't share your address with anybody else.
The Same Clean in Half the Time!
Gyro navigation has up to 2x the efficiency of standard robotic vacuums. This means a clean which would take 100 minutes with bounce can be completed in 50 minutes with gyro.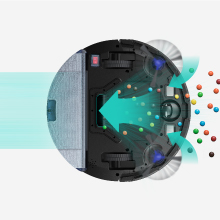 Sweep. Mop. Sparkle.
2-in-1 sweeping and mopping will leave your floors crumb-free and squeaky clean.
Ultra-Thin Design
Super-slim 2.85" body effortlessly glides under furniture and into hard-to-reach areas.
Minimum Hassle, Maximum Convenience
The redesigned Unibody Filter increases efficiency and lasts longer which means less fuss for you.
Drop-sensing
RoboVac uses drop-sensing technology to avoid falling down stairs and off of ledges.
Routine Cleaning
Customize a cleaning schedule that suits you. Simply set RoboVac to clean any time, any day, all via your phone. Select multiple days and ensure your floors are always spotless.
Disturbs Dust Not People
Advanced brushless motor significantly reduces vacuuming noise. Produces only 55dB of noise while in use - less than a microwave.
Pet-Proof Surface
Anti-scratch tempered glass-top cover for protection against curious pets.
Model Number: T2150
RoboVac G10 Hybrid
Eliminate Vacuuming Chores
RoboVac takes on dust-busting around your home so you don't have to. Multiple cleaning modes and auto-clean scheduling ensure an effortless, thorough clean while you relax.
Smarter Than Ever
RoboVac G10 Hybrid is undeniably a teacher's pet. More intelligent, with Smart Dynamic Navigation, cleaning report cards, Wi-Fi and voice control.
Versatile Cleaning Made Easy
2-in-1 mopping and sweeping for a sparkling clean without the effort. Unibody filter for less maintenance and more relaxing.
Lean, Mean, Cleaning Machine
2000Pa of superior suction power ensures your home is clear of dirt, dust, and crumbs. RoboVac may be ultra-slim, but it's packed with a 3-point cleaning system consisting of a suction inlet and side-brush which deliver meticulous cleaning.
Cleans While You Relax
Refined from the inside out to provide quiet vacuuming with zero hassle. RoboVac cleans with the equivalent volume of a microwave, and is only 2.85" tall to clean under low-hanging furniture with ease.
Premium Components
The anti-scratch tempered glass cover provides a sleek look and superior protection for RoboVac, while the unibody filter achieves a better clean for your home.
Year-Round Support
At eufy, we believe in our products. That's why we back them all with 12-month coverage and provide friendly, easy-to-reach support.
For Optimal Use:
- Engineered for hard floors such as hardwood, tile or laminate etc. Note: for best results on carpets and rugs please check out our other eufy RoboVac models below.
- Move cables out of the way to avoid tangling. 5 cable ties are provided to help you better organize wires and power cords.
- Standard suction mode (hardwood floors) - up to 80 minutes of cleaning.
- Max suction mode (medium-pile carpets) - up to 40 minutes of cleaning.
PRODUCTS COMPARISON
Product

Max Suction Power

BoostIQ Technology

Dust Collector Capacity

Decibels

Product Height

Climbing Threshold

No-go Line

Multi-Surface Cleaning

Wi-Fi Connected

Works with Amazon Alexa
RoboVac G10 Hybrid

2000 Pa

2nd Gen

0.5 L

55dB

2.85 in

0.63 in

-

Hard Floors

✓

✓
RoboVac 30C

1500Pa

2nd Gen

0.6 L

55dB

2.85 in

0.63 in

Boundary Strips (13.2ft)

Hard Floors to Medium-Pile Carpets

✓

✓
RoboVac 15C MAX

2000Pa

2nd Gen

0.6 L

55dB

2.85 in

0.63 in

-

Hard Floors to Medium-Pile Carpets

✓

✓
RoboVac 11S (Slim)

1300 Pa

2nd Gen

0.6 L

55dB

2.85 in

0.63 in

-

Hard Floors to Medium-Pile Carpets

-

-
RoboVac 11S MAX

2000Pa

2nd Gen

0.6 L

55dB

2.85 in

0.63 in

-

Hard Floors to Medium-Pile Carpets

-

-
SPECS
Works with the Google Assistant
Fall Prevention (Drop Sensor)
Auto-Dock and Recharge Feature
Filter
Unibody High-Performance Filter
Multi-Surface Cleaning
Hard Floors to Low-Pile Carpets

Your order qualifies for FREE Shipping!
