eufy
Video Doorbell 2K (Battery-Powered) Add-on Unit
Wireless Add-on Video Doorbell with 2K Resolution, 2-Way Audio, Simple Self-Installation, HomeBase 2 Required
---
2.5x the Clarity: The built-in Sony 2K sensor and professional-grade lens allow you to view activity in picture-perfect resolution. See visitors in sharp detail as they approach your door.
Dual Power Options: Half a year of coverage from one charge or non-stop power supply via a wired connection.
Expanded Field of View: The increased 4:3 Aspect Ratio ensures you get a head-to-toe view of anyone who approaches and gives you the perfect viewing angle every time.
HomeBase 2 Required: The eufy Security Wireless Add-on Video Doorbell requires a HomeBase 2 to operate. Please note, the doorbell alone will not work.
---
Free shipping ready now and returns made easy.
2K & WDR
See visitors in sharp detail as they approach your door against any backlighting.
Power-Savvy Connection
The private low-power wireless connection between the Doorbell and Homebase reduces standby power consumption by 58%.
Storage You Can Trust
Military-grade AES-256 data encryption ensures your footage is kept private on transmission and storage.
Enhanced Human Detection
The on-device AI instantly analyses each event and accurately determines whether or not a human is present. This ensures only relevant alerts are sent and that you are notified in real-time.
Customized Detection
Draw an Activity Zone to customize the area in which motion is detected. Exclude busy pedestrian areas or roads to reduce the number of false alerts you receive.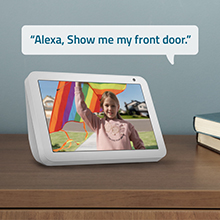 "Hey Alexa, show me my front door"
Connect your Doorbell to Google Voice Assistant or Amazon Alexa and check in anytime on what's happening outside your home.
Respond in Real-Time
Speak directly to anyone who approaches your front door via two-way audio. Tell your friends to come round the back or that you have just run out to get some milk.
Interaction Made Easy
Record and set up to 3 instant responses. When you are notified of activity simply select one of you pre-recorded responses to interact and give instructions.
eufy Security Add-on Video Doorbell (Battery-Powered)
From eufy, where privacy comes first
Comprehensive Safety Solutions for Your Home.
Protects You, Your Family, and Your Privacy
Every eufy Security product is engineered to ensure your data is kept private. Keep a secure record of everything that happens around your home.
A Clear View (2k Resolution)
HD resolution combines with advanced WDR and Distortion correction, ensures video is recorded in 2.5x the clarity.
180-day battery life
Enjoy half a year of surveillance from just one charge. Recharge with ease so you always know who's at your door.
IP65 Weatherproof
Ensures non-stop operation in extreme temperatures from -4°F to 122° F (-20°C to 50°C)
Install in an Instant
Simply fix the mount and snap on the Doorbell. No need to mess around with complicated wiring, self-installation in minutes.
Connect the Dots
Use your Echo Dot to act as a chime so that you never miss a ring.
PRODUCTS COMPARISON
product

Suitable for

Image Quality

Aspect Ratio

Power Options

Smart Detection

3s Pre-buffer

Video Storage Location

Doorbell Chime

Doorbell Dimensions

Opearting Temperature
Video Doorbell 2K (Battery-Powered) Add-on Unit

1. Users of eufyCam series and have a HomeBase 1 or 2. 2. Houses without existing doorbell wires. 3. Users who don't want to handle the wiring.

2K Resolution (2560x1920) WDR

4:3

Built-in Battery (180-day battery life) or Existing Doorbell Wiring (8-24V)

Human Body and Face Detection

No

16GB, On HomeBase (Not Included)

1. HomeBase speaker as a chime. 2. Alexa Echo device as a chime. 3. Compatible with mechanical chime (not digital chime)

5.5in x 2.1in x 1.1in

-4°F - 122°F (-20°C - 50°C)
Video Doorbell 2K (Wired)

1. Houses with existing doorbell wires. 2. Users who are comfortable to handle the wiring.

2K Resolution (2560x1920) HDR Distortion Correction

4:3

Existing Doorbell Wiring (16-24VAC, 30VA or above)

Human Body and Face Detection

Yes

4GB, On Doorbell

1. Free indoor chime. 2. Alexa Echo device as a chime.

4.8in x 1.7in x 0.9in

-4°F - 122°F (-20°C - 50°C)

Your order qualifies for FREE Shipping!
